Hope after her first open heart surgery at Leeds
Hope in hospital after her second open heart surgery in 5 weeks
Baby Hope was admitted to Leeds Children's Hospital for emergency open heart surgery during the pandemic.

CHSF were there to support Hope and her family during their hospital stay and beyond.
Hope's mum Leanne talked to us about how CHSF have helped during Hope's CHD journey and what the family have done to say thank you to our charity…
Back in March this year our baby girl Hope was rushed to Leeds hospital when she was two months old. She was born with heart defects which led to her needing emergency heart surgery. This is when I was introduced to Sarah, the family support worker for Children's Heart Surgery Fund.

Sarah helped me while I was in Leeds. I'm from Barnsley so I couldn't just pop home for bits and to see my other children, partner or family. Even though there was the nurses to talk to it was pretty lonely but Sarah helped me and made me feel supported and not so alone.

Due to the covid pandemic things were harder and I couldn't use the kitchens in my accommodation so that meant having to pay for meals. CHSF helped support me with food by providing Tesco vouchers too.
Hope took a turn for the worse and needed a second heart surgery a few weeks later so in total we spent three months at Leeds Children's Hospital.

It was hard being separated from my partner and children so long so CHSF arranged and paid for a hotel for the night so my partner and children could be with me. I can't put into words how happy and thankful I was for that amazing gift.

While Hope was on the PICU ward and ward L51 I noticed a lot of the equipment was funded by CHSF. Sarah also brought parent packs in for us with treats and the children get a beautiful Katie Bear teddy and medal after each operation.

Seeing all the amazing things this charity does for families and for the Leeds Congenital Heart Unit made me want to help them and give a little back.

I was talking to my Auntie on the phone one night and mentioned how I'd like to do some fundraising for Children's Heart Surgery Fund and for the Sick Children's Trust who run Eckersley House where I was staying in Leeds.

From then on my Auntie Tania started planning and also got her children involved, Danny and Sadie.
CHSF arranged for an overnight stay in a hotel for Leanne, her partner Mikey and two other children.
Hope spent three months in hospital being treated at the Leeds Congenital Heart Unit
Family walked from Barnsley to Leeds
Fancy dress at the fun day!
There was a number of fundraisers planned and we had a target of £5,000. The fundraisers were:

• Sadie did a skydive – jumping 15,000 feet out of a plane.

• Sadie's partner, Jack, did a 72 mile walk from Leeds to Barnsley…and then back again.

• Big fun day with rides, penalty shootout, stalls, food vans arranged by Danny.

• Fancy dress 24 mile walk from Barnsley to Leeds arranged by Tania. Family and friends walked, including my 8 year old son Kaylem and his friend Harley.

• £500 donation from my Grandparents – Hope's Great-Grandparents.

• £600 funds raised by my Uncle Paul.

• Lots of other donations from generous people too!
CHSF have supported me and loads more families. With Hope's condition, she will need more operations and my mind is at ease knowing I have them to support us while we're there at a difficult time. I can't thank Children's Heart Surgery Fund enough.

As for the fundraising, we plan on making it an annual event. We doubled our initial target raising a whopping £11,000 for both charities and we plan on smashing it again next year.
Wow! We have been truly blown away by the amazing support given by Hope's family and friends. Because of YOU we can keep being there for so many more heart warriors and their families. Thank you.
Hope with her family's incredible donation to CHSF!
Extra! Extra! Read all about it!
"THE FAMILY of an ill little girl may have just counted up how much they have raised following a series of fundraising challenges, but they are already looking to next year to do it all again."
Read the full article on WeAreBarnsley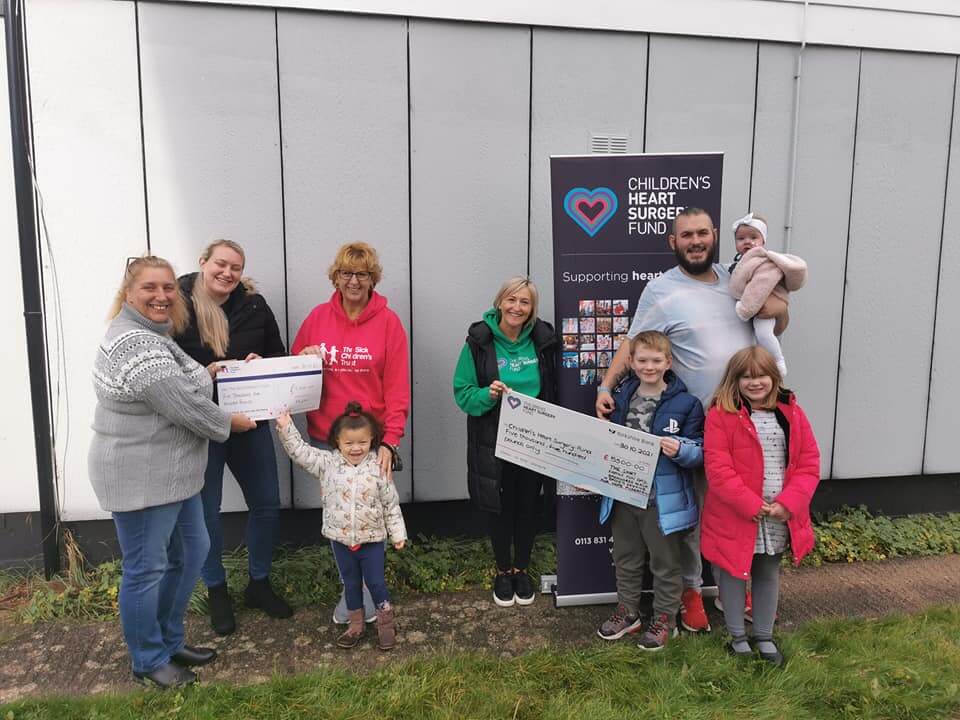 Feeling inspired?
Could you step up to the challenge and start fundraising for CHSF?
Got your own idea? Want to try something different? We're always on hand to discuss your fundraising. Email lisa.williams@chsf.org.uk or call 0113 831 4810
More fundraising inspiration…
Written by Charlotte, auntie to Rosalie Nine days after my beautiful niece Rosalie was born, she became critically ill after collapsing in A&E. She was taken to PICU at Leeds Children's Hospital where she was diagnosed with Coarctation of the Aorta and a VSD and...