Nearly a month has passed and we are still on a #WearRedDay high at CHSF HQ! You well and truly painted the REGION red and raised superb awareness and funds for CHSF and congenital heart disease.
February was so jam-packed full of amazing fundraisers that we couldn't pick only one! Keep reading to see what inspired just 
four

of our fundraisers to rock the red last month…
Natalie Morris
"We chose to fundraise for CHSF on behalf of our daughter Isabel who had surgery in March 2014. We live about 50 miles from Leeds and I know of so many family's locally to me who's children have had surgery at the unit, some who are close friends. It was great to get Isabel's school involved on Wear Red Day and for the children to learn more about why they were wearing red how it helps children like Isabel."
"We've done this the last few years and one girl always stops me when she sees me with Isabel to tell her mum the reason they do Wear Red Day in school. It's great that the children are aware of what other children go through. CHSF provided the accommodation for us when Isabel was really poorly. They transferred us from our local hospital to Leeds and then again when she needed heart surgery just a few weeks later."
"Providing us with accommodation when Isabel was so sick gave us relief and one less thing to worry about, knowing we could be close to Isabel without the need to travel daily. Also just from being on the ward we could see how much CHSF put into supporting the Leeds Congenital Heart Unit."
"We've taken part in quite a few events and fundraising challenges for Children's Heart Surgery Fund – from coffee mornings, raffles, wear red days and Isabel doing the Superhero Walk to a long bike riding challenge. Next month my husband Kev & brother in law Steve are running the Sheffield Half Marathon! This is their first running event, it's just great to give something back."
"Advice I'd give to anyone planning to fundraise for CHSf is, plan something fun and exciting and try and get as many people involved as possible. The CHSF Facebook pages are great for bringing people together and you'll find everyone supports each other in their fundraising – making great friends along the way whilst connecting with people who know what you've been through."
"CHSF do an amazing job with the continued support they offer to the Leeds Congenital Heart Unit and supporting the families of those children."
Laura Fletcher
Why did you choose to fundraise for CHSF?
"Our daughter Ava has had four procedures at Leeds, so each year we like to try give something back. She has a complex condition and has had two open heart surgeries as a baby so its important for us to show our gratitude."
How has CHSF helped your family specifically?
"They have always provided support for our family and helped with our fundraising plans."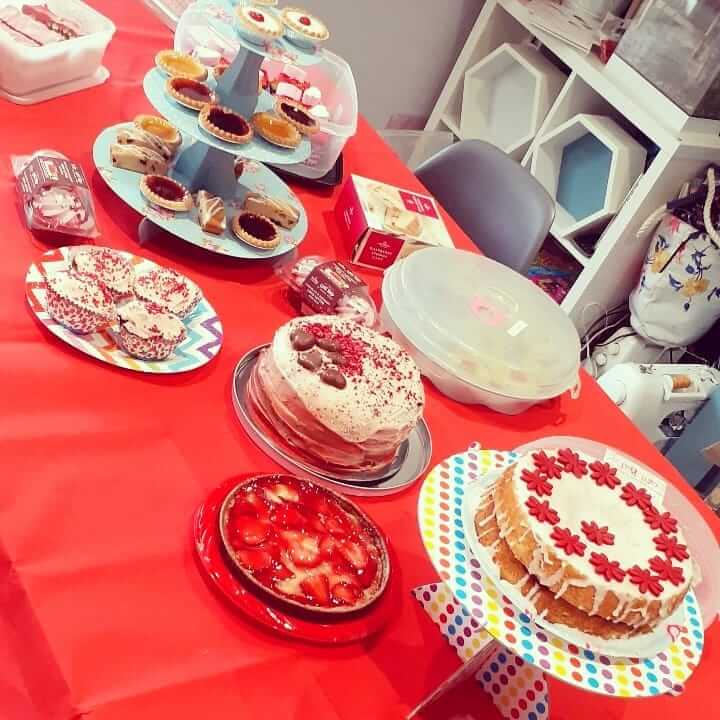 What fundraising have you completed for CHSF?
"We have in the past done a Coast2Coast cycle, a fashion show, a skydive and an 18 mile walk. Most recently we did a Wear Red Day cake sale raising £150, and Ava and William's school raised money too."
Is there any advice you would give to other fundraisers?
"Keep it simple! And use social media to spread the word 😉"
Is there anything else you would like to say about CHSF?
"They are an amazing charity and we feel so proud that Ava has such a great understanding of it and the amazing work they do."
Esh Construction
"Esh Leeds office staff, site staff and subcontractors on our 'Ironworks' project in Leeds, supported CHSF's Wear Red Day this year. Esh office staff took part in raising funds by wearing red clothing, red makeup and bringing in red baked goods! Our on-site staff also took part in raising money and wearing Red Hi-Vis Jackets."
"My team and I are fortunate in that we haven't needed the Services of CHSF but fully appreciate what a wonderful difference they make to those who do."
"We are happy we could help make a little difference and have a little fun along the way whilst raising some much needed funds to show our support."
"Getting involved in fundraising isn't about competition or who can raise the most money, its about taking part with family, friends or co-workers in activities such as sporting activities, bake sales or wearing a particular colour for the day that represents that charity such as 'Wear Red Day' to raise money, be it large or small, for charities who provide such an amazing service. Fundraising is for all ages including adults, children – and even pets!"
"CHSF provide an amazing and vital service to babies, children and adult with CHD. The support they provide is fantastic and we at Esh are proud to have raised over £800 for them!"
Mandy Warner
Why did you choose to fundraise for CHSF?
"We think back to the day we were given the news of our baby girls heart diagnosis – nothing prepares you for that.  Ebony was diagnosed with an AVSD shortly after birth in November 2016 – we remember confiding in a friend of ours who's little boy had just gone through a similar ordeal and she told us about the amazing support of Children's Heart Surgery Fund."
"We often think of the quote we found on the internet 'I understand you're not a CHD parent so spreading awareness isn't a priority, but the day before my child's diagnosis, I wasn't a CHD parent either' this rings so true. It's a real shame that it takes something to happen to you as a family to identify what level of support is out there – these amazing charities that go above and beyond, that have our backs at such a vulnerable time that we as parents find ourselves in."
How has CHSF helped your family specifically?
"In July 2018 our daughter underwent her first open heart surgery. The fear we shared as we made our way to the hospital was extremely intense but as soon as we walked in, we were blown away with an environment that just felt far from a hospital. Seeing the beautiful bright colourss and a familiar Katie Bear on the wall. The toys, the fish tank, the interaction…..just wow."
"But the thing that stuck out the most to us as we sat by our daughter's bed side and we stared at the numbers on the monitors next to her – that this fantastic equipment that was tracking our daughter's recovery was all funded by CHSF! Thank you for letting us be a family, providing the much-appreciated accommodation to enable us to both sit by our baby girl's bed side day and night whilst she began her journey to recovery."
What fundraising have you completed for CHSF?
"In September 2017 I took to the skies in my first skydive alongside Ebony's Auntie Hayley and Uncle Nathan. This challenge was huge but I was keen to do this for a cause so very close to us. In July 2019, marking Ebony's one year heart anniversary, we held a Family Fun Day in our local village hall. This event was a huge success and meant everything to us. In September 2019, I ran my first ever half marathon when I took part in the SimplyHealth Great North Run."
"I never imagined running this, I didn't think I was capable, but had the help of a good friend along the way. Having our beautiful heart warrior waiting at the finish line gave me the determination. Most recently for CHSF's annual Wear Red Day a very kind friend held a small children's party for our daughter in our local club for families to come along, enjoy the entertainment and supported our efforts to raise a further £160!"
"And we will not stop there! What CHSF have done for our family amongst so many other heart families – our efforts made so far (which have been extremely successful through support from our family, friends and local community) isn't merely enough to show how thankful we are. Our hard work and determination to support this amazing charity will go on!!"
Is there any advice you would give to other fundraisers?
"Be proud of what you achieve. CHSF appreciate every single penny we raise in 'Supporting hearts for life'. Fundraising really dosen't have to be big and bold, there are so many ways you can work a fundraiser around your commitments. cake stalls, wearing red, organised walks etc are just some of the ways you can support this amazing charity. The satisfaction of knowing you supported something so worthwhile, and how every single penny of your donations are supporting our daughters, sons, grandchildren etc in a huge way really is something to be extremely proud of. We are in this together and all our donations combined are doing something truly amazing!"
Is there anything else you would like to say about CHSF?
To Children's Heart Surgery Fund,
From the bottom of our hearts, I'm sure we speak for many people when we say, thank you CHSF for the love and care you show and your continued hard work, dedication and commitment in making this cause the success it is today. The scary path we as parents, grandparents, nieces and nephews, aunties and uncles find ourselves on, just makes that road a little clearer for us as we find our way.
We know our Heart Family we will forever owe everything to you and more.
xxxxxxxxx
We are so incredibly grateful to all our terrific fundraisers!
We had a blast celebrating with you on #WearRedDay and social media was buzzing with your posts, photos and videos!
Another massive thank you to everyone who got involved and raised vital funds and awareness of congenital heart disease in our region!
Still need to get your #WearRedDay fundraising to us?