This #FundraisingFriday our supporters get musical and show us that anyone, no matter your age can raise awareness and start fundraising for CHSF!
Young at Heart Concert
Organisers Peter and Jane Wallbank said:
We decided to hold a concert in the village hall to give the talented young people a chance to perform in front of an audience.

The reason we chose to raise money for CHSF is because we are friends of Lois, whose daughter Amelie was born with half a heart. We sing with Lois in Cononley Singers, who have raised money through concerts for CHSF in the past.
Above: Lois and Amelie Brown, Jessica Smith (singer), Peter Wallbank (organiser), Liz Brown (secretary)
Lois spoke at the beginning of the concert about the charity and about Amelie's heart problems. Amelie raced back from playing hockey to sing a couple of songs and Lois accompanied her on the piano.

The audience appreciated more about the work of the charity after hearing what Lois had to say.  We had some fabulous raffle prizes donated from local businesses, which helped us to raise a superb £724!

You can read more about the Young at Heart Concert in the Keighley News here.
Laney Law-Smith
Laney wanted to raise money for the CHSF because she thought it would be good to help all the people with special scars like hers.
Laney and her little sister made paper hearts and heart cards and sold them along with some heart teddy bears.
Wow! A huge well done Laney – thank you so much for your incredible fundraising. Children's Heart Surgery Fund can only do what we do because of people just like you!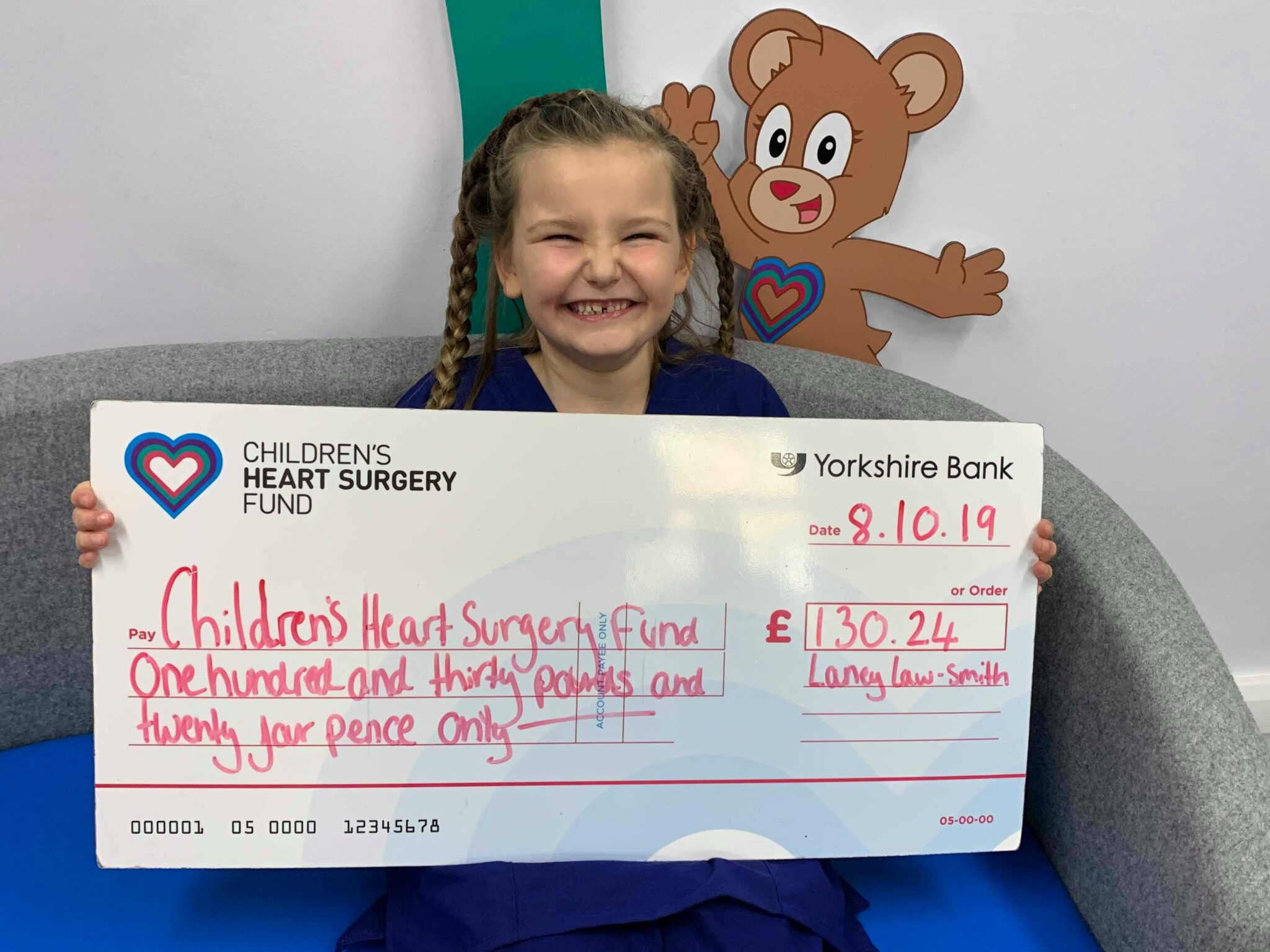 SKANWEAR
 It was a delight to meet the team at SKANWEAR who have kicked off their fundraising journey by raising £564! They raised funds through traditional in-office fundraising such as dress down days, bake sales and cheese and biscuit afternoons!
Corporate Partnerships Manager, Laura Baker said:
As their brand is all about saving lives I can't imagine a better partner for Children's Heart Surgery Fund.